From a childminders, into a small nursery, Chuckles Childcare has grown from strength to strength. During this time the team developed strong working relationships with families. Caroline and the team have been proud that the cohorts of children who have graduated, have started school as resilient, confident and well-balanced individuals. We were tasked with the challenge of ensuring that all the qualities of Caroline and the team had a visual signature that connected with her target market. This was achieved with people focused photography and a strong graphic palette.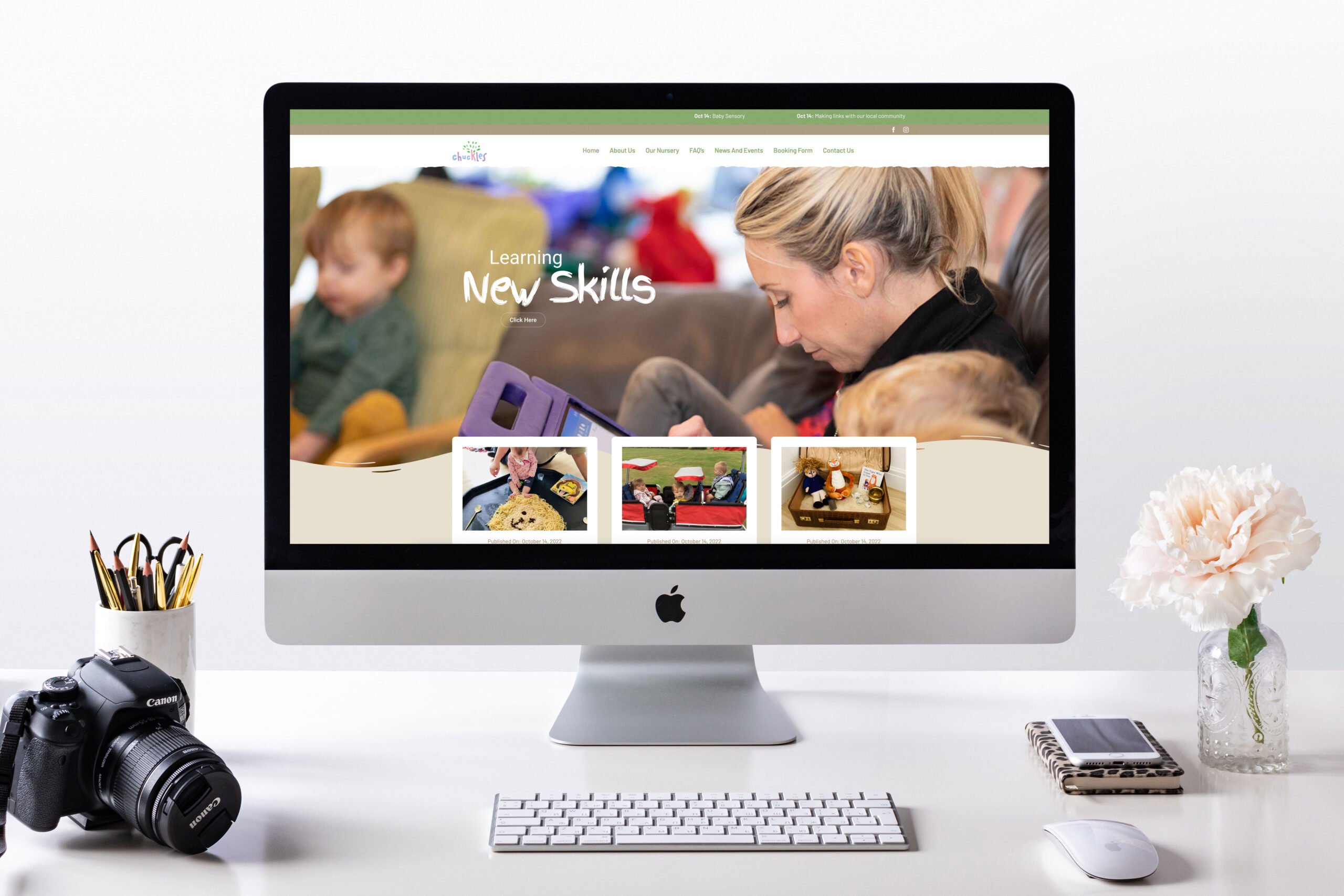 "Justin designed, built and maintains my website for my nursery business providing care for children in my local area. I cannot recommend Justin highly enough. It's not that easy choosing a web designer as the market is flooded, but you can be assured Justin is an expert in this area. Justin is highly creative with a background in graphic design, Art and professional photography. You can see this in the finished product and his attention to detail. Justin worked hard to understand exactly the look I wanted, even doing his own research into my chosen educational approaches, using muted colours and natural backgrounds. I was quite surprised at Justin's knowledge, considering he doesn't have a background in Early Years. Justin designed the logo and the sign for the nursery which we have had many compliments on. Justin understood the importance of ensuring the website was personalised and not a corporate, garish copy of many websites. To do this he visited the nursery on many occasions, getting to know the business, getting to know me, getting to know my ethos, getting to know the staff, observing the setting; and using all of this to build a bespoke website. I'm not the easiest person to understand, my ideas are in my head and I find it hard to get across exactly what I want. I had already cancelled a web designer who had started my website but just didn't get me or my business. Justin was very patient and determined to understand my philosophy and the look I wanted. Justin took all the photos himself, he wanted in action real photos of nursery life, which he updates on a regular basis and links in with our social media pages. The website build is very user friend – I continuously generate business through the website, there's always enquiries coming through, more so than our landline at the nursery premises. Justin genuinely wanted to help grow my business and this comes across in the design and how this works for parents looking for care in the area. He understands google ratings and how to move the website nearer to the top of search results to generate more business. I was very pleasantly surprised at the cost for all of the above, which was very competitive. Justin has the ability to do most of the work involved from start to finish, keeping costs down, rather than involving photographers and sign companies. Oh and Justin is a really nice guy too which helped for a stress free process."
"We approached Green Lemon to total redesign our website. Not knowing anything about websites Justin was amazing. So knowledgeable in terms of what works and what doesn't, not just visual but behind the platform as well. Justin attended site to gain professional photos for our portfolio and offers on going support. Would highly recommend"
"Just wanted to say thanks very much for creating such a fantastic, refreshing new look for us. We had brilliant positive feedback from all staff members, suppliers and parents. We have been very impressed by green lemon to literally read our minds and deliver a corporate identity, photography and a website that perfectly symbolizes our vision and conveys the stylish, elegant and modern image we needed to sustain the development of our nursery."
"The team at Green Lemon have taken our digital marketing to the next level. They offer real value for money, increasing traffic and improving sales by managing our Google ads and social media content in a dynamic way."
"I needed a logo and paperwork for my new business and I didn't really have an idea on what my logo should look like. Justin was really creative with my business name and came up with a great logo that captured the name and the business concept all in one. It was stress free and Justin was really helpful, professional and efficient and made the process really easy"
Bankfield House Care Home approached Green Lemon with a view of launching our new website in 2022. Collating all of the relevant information and the inclusion of key staff proved challenging in our busy daily schedules. However, Justin the Director of Green Lemon, proved to have enduring patience and professionalism.  He continued to manoeuvre around us, ensuring his images of our home & staff were a credit to us. He was readily available to advise and re-access on photographs and text when ever required. Bankfield House will have no hesitation in contacting Justin when we are in a position to advance further with remote images throughout or premises.

Justin also deals with all our Business cards, letter heads and leaflets – again these are always completed promptly when required. We also have a stand-up banner which was designed for us, which is used for Job fairs etc.
We would highly recommend Justin, who has been an invaluable asset to the Damart family over the past 19 years. Justin has consistently delivered exceptional concept, design and artwork, even under tight deadlines, without compromising quality. His meticulous attention to detail, effective time management and multitasking skills have ensured the successful completion of numerous projects throughout our longstanding professional relationship.

Furthermore, Justin has seamlessly integrated into our team, demonstrating excellent communication, professionalism and a collaborative nature. His contributions and valuable insights have greatly influenced the success of the Damart Brand.
"Justin designed, built and maintains my website for my nursery business providing care for children in my local area. I cannot recommend Justin highly enough. It's not that easy choosing a web designer as the market is flooded, but you can be assured Justin is an expert in this area. Justin is highly creative with a background in graphic design, Art and professional photography. You can see this in the finished product and his attention to detail. Justin worked hard to understand exactly the look I wanted, even doing his own research into my chosen educational approaches, using muted colours and natural backgrounds. I was quite surprised at Justin's knowledge, considering he doesn't have a background in Early Years. Justin designed the logo and the sign for the nursery which we have had many compliments on. Justin understood the importance of ensuring the website was personalised and not a corporate, garish copy of many websites. To do this he visited the nursery on many occasions, getting to know the business, getting to know me, getting to know my ethos, getting to know the staff, observing the setting; and using all of this to build a bespoke website. I'm not the easiest person to understand, my ideas are in my head and I find it hard to get across exactly what I want. I had already cancelled a web designer who had started my website but just didn't get me or my business. Justin was very patient and determined to understand my philosophy and the look I wanted. Justin took all the photos himself, he wanted in action real photos of nursery life, which he updates on a regular basis and links in with our social media pages. The website build is very user friend – I continuously generate business through the website, there's always enquiries coming through, more so than our landline at the nursery premises. Justin genuinely wanted to help grow my business and this comes across in the design and how this works for parents looking for care in the area. He understands google ratings and how to move the website nearer to the top of search results to generate more business. I was very pleasantly surprised at the cost for all of the above, which was very competitive. Justin has the ability to do most of the work involved from start to finish, keeping costs down, rather than involving photographers and sign companies. Oh and Justin is a really nice guy too which helped for a stress free process."